Selected Projects and Assignments
---
Mutual Occlusions on Table-top Displays
Research project at Takemura Lab, Osaka, Japan, 2008.
Supervisor: Kiyoshi Kiyokawa, Ph.D.
We developed an projector-based approach to dealing with mutual occlusions between virtual and real objects on a table-top display. Display tables use stereoscopy to make virtual content appear to exist in 3 dimensions on or above a table top. The actual image, however, lies on the physical plane of the display table. Any real physical object introduced above this plane therefore obstructs our view of the display surface and disrupts the illusion of the virtual scene.
---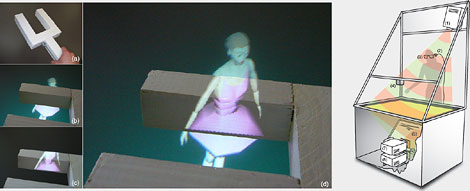 ---
Related Publication

Kurz, D., Kiyokawa, K., and Takemura, H.
Mutual Occlusions on Table-top Displays in Mixed Reality Applications
In Proc. ACM Symposium on Virtual Reality Software and Technology (VRST2008), pp.227-230, Bordeaux, France, 2008.
---
---
Copyright © 2008—2021 Daniel Kurz. All rights reserved.